Two decades ago, the concept of an Asheville coworking space was a novel idea. While the era of career-long job security – in the form of companies like IBM keeping employees on board until retirement – had already slipped away, the practice of working for a company but not actually working there was largely the stuff of theoretical discussions. But as the internet quickly came into widespread use in the 1990s, some white-collar workers discovered that they could handle most, if not all, of their work responsibilities without actually coming to the office.
Technology changed rapidly as the end of the 20th century arrived. Dial-up modems gave way to significantly faster connections, and the price of increasing processing speed and adding storage space on computers plummeted. Employers discovered that there were often dramatic cost savings associated with allowing workers to "telecommute," in the parlance of the era. And an increasing number of workers turned to working remotely.
But for a segment of the new work-from-home population, something was lost. Whether it was on a human level – say, the camaraderie of chit-chat around the water cooler or conversation during lunch break – or the loss of access to office technology (color copiers, records stored in file cabinets), some remote workers found that freedom from the office had downsides of its own.
Into that space came a new business model: coworking. Some years after the phenomenon took hold in San Francisco, a 2011 article in Deskmag explored the origins of the concept. Author Carsten Foertsch described coworking as "a self-directed, collaborative and flexible work style that is based on mutual trust and the sharing of common core objectives and values between members." In practice, coworking is a practice in which workers from various fields share a physical space that provides some, most or possibly even all of the resources one would find in a traditional office environment.
Coworking is often a kind of ad hoc arrangement in which a worker can avail him- or herself of a desk, an internet connection, meeting space, advanced communication technology (videoconferencing, for example) and the like without taking on the effort and expense of acquiring all of those things. Coworking means that a worker can access those resources on an as-needed (and only when needed) basis, bridging the gap between working at home and commuting to the office.
Coworking spaces first began to appear in and around San Francisco and other large metropolitan areas. But as their popularity has grown, coworking facilities have opened in smaller cities and towns. A city like Asheville, N.C. would seem ideal for the coworking model; as opposed to a major metropolitan area like Charlotte or Atlanta (to which some people move for work), Asheville is better described as a "lifestyle destination."
While many move to the region for retirement, people who are still in the workforce choose to relocate to the small mountain city while keeping the job they had in the larger city. Moreover, because Asheville wages are traditionally lower than other markets (while the cost of living is higher), living here but working for an employer-based elsewhere can be a case of "best of both worlds." For those workers and others, coworking holds many advantages.
Diane Cherry of N.C. State University's Institute for Emerging Issues wrote a paper on coworking in 2013; that report identified several trends that suggested a bright future for coworking. The study's main points centered around the growing market share of self-employment, a trend among Generation Z workers (people born between 1995 and 2005) to move away from the 9-to-5 work model, and a forecast of the state's economic growth centering around professional and business services. Those sectors, she wrote, "accounts for the majority of entrepreneurial endeavors."
At least in Asheville and Buncombe County, the current climate for coworking ventures appears to be more of a mixed bag.
One of the first coworking spaces to open in Asheville was Locomotivity on Broadway Street, located near the current headquarters of Moog Music. Opened in 2009, it was shuttered a year later. The same fate befell Tink Tank; launched in 2011, the Carolina Lane coworking space was out of business by 2012.
As recently as March 2018, Asheville was home to seven coworking spaces, a number of which were the subject of an in-depth report in July of 2018 by local business publication Capital at Play on coworking in Western North Carolina. But just over a year later, almost half of those have ceased operation or changed the nature of their business. Open Space AVL – the subject of a story on coworking that featured prominently in the Asheville Citizen-Times – got out of the coworking game, re-branding itself as a traditional broker renting office space. North Asheville's Purpose Collective has also realigned its business model in recent months. "Our business has actually shifted gears into being more of a think tank than a co-working space," says co-owner Gina Heath. And the Collider – a "global innovation center for climate entrepreneurs" – initially listed coworking spaces among its offerings, but no longer makes that claim.
Some of the coworking ventures' failure to thrive – perhaps including Locomotivity and Tink Tank – can be written off as a case of "too much, too soon." Early adopters made coworking a viable business model in larger cities, but the Asheville marketplace was slower to accept the new and innovative coworking concept. And the more recent disappearance of half of the city's coworking spaces may be as simple as the effect of market forces: There simply may not be room for a half-dozen coworking facilities in a metropolitan area of less than 450,000 persons.
Those that remain, however, report measured success. Among those open today are Hatchworks, Mojo Coworking, Focal Point Coworking and Haw Creek Commons. Launched in April 2018, Focal Point coworking is located in downtown Asheville, a stone's throw from the Orange Peel concert venue. Founder and CEO Alison Pages opened Focal Point first to serve her own needs, but soon she made those resources available to other entrepreneurs and remote workers.
"Technology has made it possible for entrepreneurs to create and run a business from anywhere," Pages says. "With the rise of these small business owners and remote workers, the 'digital nomad' lifestyle has exploded worldwide." And she emphasizes the allure for corking spaces. "People can travel and work no matter their location, but they still look for a professional environment and a collaborative business community."
Chris Duggins is the "community cultivator" at Haw Creek Commons, an Asheville coworking space in East Asheville. He points out that in the last five years, the number of people working from home has increased nearly 400%. He says that coworking facilities can offer "a very basic sense of community and resource sharing, which saves a lot of time and energy for everybody involved."
Duggins says that coworking is ideal for a segment of the remote working population. "We see people seeking a coworking space that gives them a mindful and focused approach to their own work, but [also allows them] to connect with others in simple ways throughout the day," he explains. "Regardless of where you work or what you do, it's also nice to have somebody say 'hi' to you on a coffee break."
Haw Creek Commons offers an open space with seating for 30 people; additional rooms are available to host conferences, meetings and classes. A full commercial kitchen adds to the space's versatility. Noting that the venture is "a start-up" (it opened in February 2019), Duggins says that the space is currently at one-third capacity. Prices are kept low – membership is currently $100 per month – and proceeds support Bethesda United Methodist Church, owner of the space. "We project to break even within the year if growth continues as it has since February," he says.
Coworking clients at Haw Creek Commons represent a wide cross section of the workforce. Beyond traditional remote-working white collar workers, the space hosts "two full-time artists in residence, as well as a piano teacher and a songwriter," says Duggins. "In the fall, we will experiment with hosting a exploration-centered homeschool co-op three days a week."
Alison Pages says that at Focal Point, "Most coworking members come in three to four days per week and spend seven to eight hours working." She says that freelance and remote workers "move around through the space, working at desks, standing at high-top tables and on the patio with their laptops."
Focal Point Coworking offers 4500 square feet of space in the form of nine private offices, three private coworking spaces, event and meeting space and a large common area with desks for coworkers. Like Haw Creek Commons, the facility has a full kitchen. At present, Pages reports that the space is at 60% occupancy. Membership packages range from $25 to $499 per month, and single-day passes are available for $20.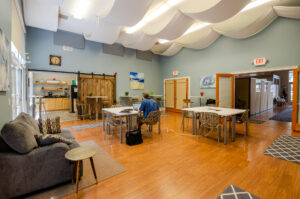 Coworking isn't for all remote workers, but spaces like Haw Creek Commons and Focal Point Coworking have managed to tap into the wants and needs of a significant share of workers. Their facilities address both the practical and emotional needs of their clients. "When in our space, you don't have to think about changing the printer toner or clearing a room to meet with clients," says Pages. She says that because "home offices can be isolating, distracting and uninspiring." coworking spaces offer an alternative to that setting.
Duggins agrees. "Freedom is something that everybody looks for in a job, and coworking spaces give individuals the freedom to decide when to work," he says. But sometimes that freedom isn't all it's cracked up to be. Coworking can be "a steady solution to the isolation, stagnation, and distraction that can occur while working from home," he suggests. "And it also helps create healthy work/life boundaries."
The NC State report cited a "Global Coworking Study" that suggests coworking facilities fare better when there's local competition; it also notes that "a new coworking space will reach its break-even point only after the first two years of operation."
And while the overall success rate of coworking space in the Asheville market has been spotty, both Focal Point and Haw Creek Commons have reasons to be optimistic. Even with just a few facilities locally, Pages doesn't think the market is saturated. "With the steady increase in population, I don't believe so," she says. "Asheville also has lots of visitors who need a workspace, as well as business teams on retreats and company trips looking for conference rooms and event space."
Duggins says that even among the handful of coworking facilities in Asheville, there's enough variety to meet a wide array of needs. "While one may not work for some, it will work perfectly for others looking to be in coworking space," he says. "We find that our coworkers really enjoy the community that is brought into our space. Everybody is there for a similar reason, and that automatically creates connection."