Looking to learn a fail-safe system for flipping houses in Asheville? Katie and Ashely Ciochetti of Homespun Investment Realty can help. With years of experience, the duo have flipping houses down to an art.
One of the reasons they're successful is due to recognizing their strengths. Ashley focuses on interior design while Katie manages the construction plan. They have learned by doing, often through mistakes, and each project offers lessons to learn. You can learn the Ciochetti's system for flipping houses without making those mistakes yourself.
Katie and Ashley look back at each house they've flipped fondly, with only a few regrets. A home in Black Mountain had a ladder-esque staircase that proved to be a code nightmare. They once laid pennies into bathroom floor tiles by hand. That, Ashley told us, was one of those "Pinterest ideas that's better left for someone else." However, the new homeowners continue to love that house, and it was one of their favorite projects overall.
Once they began streamlining their systems, Katie and Ashley couldn't help but teach others. They began in 2014 with a broker friend, Amy Wilson, who was interested in investment. With the Ciochetti's help, that friend now successfully flips houses. Eventually, the concept grew into a solid business plan, and in 2019 Homespun Investment Realty was officially born. Wilson is the third co-founder and co-owner along with the Ciochettis.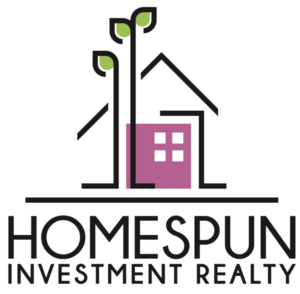 Their goal? To make investment simple. They have a network of providers (lenders, contractors, etc) to refer to their clients. Through Homespun, they're sharing the love and helping people see the value in real estate.
When shopping for a property, people don't always look at the right details. They may consider whether their furniture fits in a room or what type of ceiling is installed. The realtor may not have all the insight Homespun does, either. For example, a realtor may not know about construction and have insight into the costs of different projects. They may overestimate a budget for a remodel. The potential property owner may see a structural issue and fear that it's going to be too much work to fix.
Part of Ashley and Katie's system for flipping houses includes looking at the bigger picture. The house itself isn't as important as its location. Is it in a hot or up-and-coming neighborhood? What if your situation changes – are you willing to sell or hold the property? You may end up doing the opposite of what you had intended. For example, you may not find a buyer. Are you prepared to become a landlord and rent the property? Think about the future potential and what buyers will be looking for, and focus on capturing the largest pool of buyers.
Ashley and Katie are excited to share their extensive knowledge with clients. They are a one-stop resource for people who are interested in property investment, rehabbing and flipping and don't know where to start. With their approachable nature, the Homespun team can break down the process for a wide range of clients.
Interested in flipping houses? It's attainable. Anyone can do it if they have the right guidance.
The basic steps to their proven system:
Find money. This could be friends who want to invest or a lender of some type. Renovation loans are a good choice if you'll be living in the house while rehabbing.
Find an agent who has off-market deals and their finger on the pulse – connections are important!
Find a good house.
Stick to the budget. Just because you go over budget doesn't mean the house is worth that much more.
These steps may seem simple, but they're overwhelming for a first-timer. Luckily, Homespun can provide connections and resources to guide through every step (especially the all-important step 3!)
Katie has spent years working out her formula so the likelihood of loss is very low. Since labor and the length of the project can significantly affect the budget, she has developed guidelines for working with contractors.
Going into 2020, Ashley and Katie still see some fear in their real estate industry partners, based on what happened in 2008-2009. However, Asheville is ideal considering climate, community and location. The population will keep growing, and those newcomers need housing. If the market shifts, it wouldn't be a huge blow – it may even help keep things affordable. If there is a shift, that's a great time to get deals.
Asheville remains a great market to flip homes in, and you can do it too – but do it right! Homespun is a great new resource for investors and would-be investors. Contact them on their website or via social media.