Don't try to analyze market data yourself! Look to the experts who can tell you what the numbers mean. 
Zac Ruiz is back with another Ruiz Report, his analysis of current real estate market data. Zac's background in data science and finance allows him to look at the data and provide an interpretation for what it means to all of us. He wants to put the numbers in context of what's happening locally. 
There's a lot of information floating around, and you may draw skewed or one-sided conclusions from that data. However, Zac is able to provide more insight into what those numbers are showing. 
For clarity, check out the video of this podcast to see all of Zac's slides and graphs. He looks at listings and home sales, as well as the inventory and absorption rates' impact on those numbers. Zac compares July 2020 to both June 2020 and July 2019.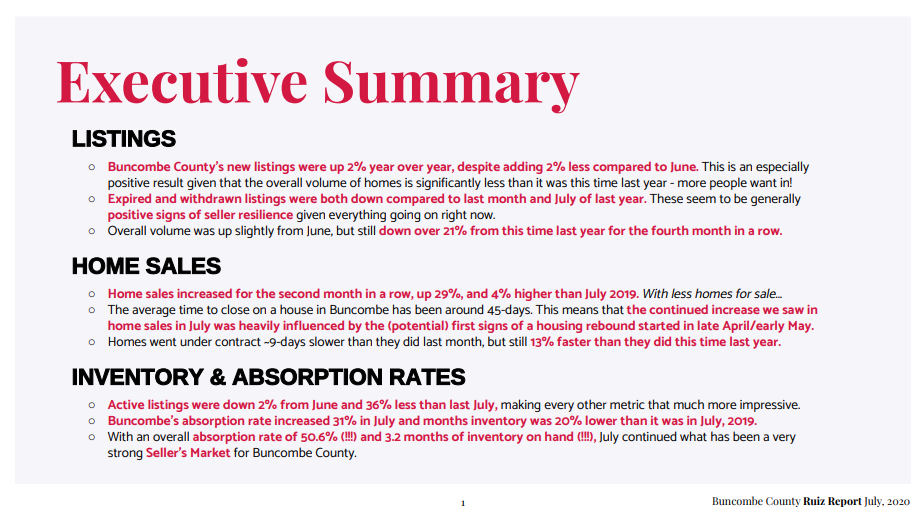 Listings
When realtors refer to active listings, this is the number of homes for sale and under contract. Zac examined numbers for Buncombe County and Asheville, as well as two nearby counties.
In July we had 527 new listings, bringing active listings to 934. This was down 36% from last year. But in 2020 we had higher new listings, more homes under contract, more homes sold, less expired, less withdrawn, faster sales, and shorter days on the market. The absorption rate was higher and so were sales prices. Basically, all other numbers rose significantly. This trend was the same for all three counties in the Asheville area.
Zac also highlights the absorption rate and months of inventory. He shows buyer's markets and seller's markets, which occur when the absorption rate goes above 20%. We're seeing absorption rates over 100%, which is incredible. The months of inventory, which shows how fast things are selling, is very low since we don't have a lot of homes available.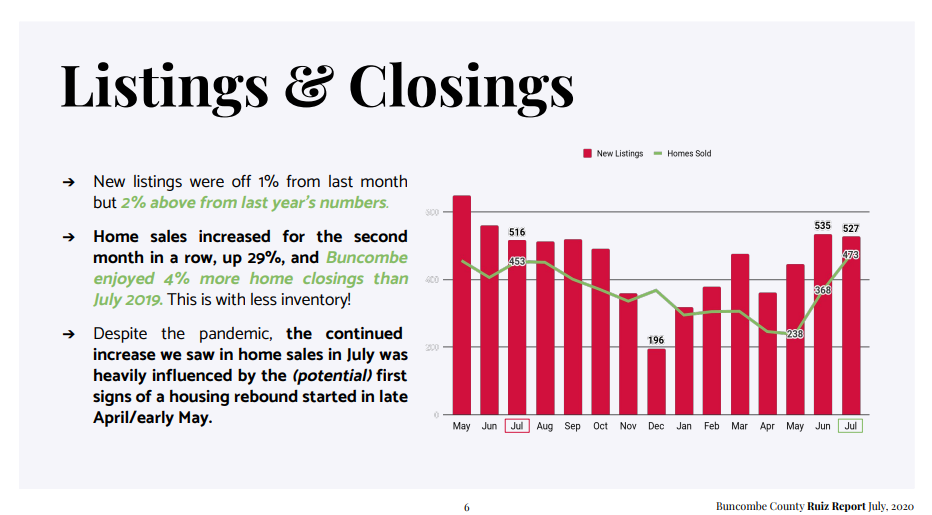 So, although the number of homes has diminished since last year, we saw some huge jumps in other areas. We're selling more homes. In March of 2020, we saw the COVID-19 shutdown and mass uncertainty. As a result, April and March had less new listings, but since then, it's gone up. In July of 2019, 516 people listed homes in Asheville. This year, 527 listed homes. This show potential for a positive rebound from a worrisome spring.
Home Prices
If you've looked at home listings lately, you know the current trend — positive. Currently, prices are 6% higher than last year. Positive home value appreciation is staying positive, even in the face of a pandemic. These numbers are also due to the lack of inventory, a low number of homes available for sale. It's crucial for buyers to move quickly!
If you look at active listings and pending ratios, you'll see that lack of inventory reflected. For example, 70% of homes under $200k are pending sale/under contract. Homes are selling 13% faster than last year. If you're buying, look at the original list price ratio to see if the home is priced well in the current market.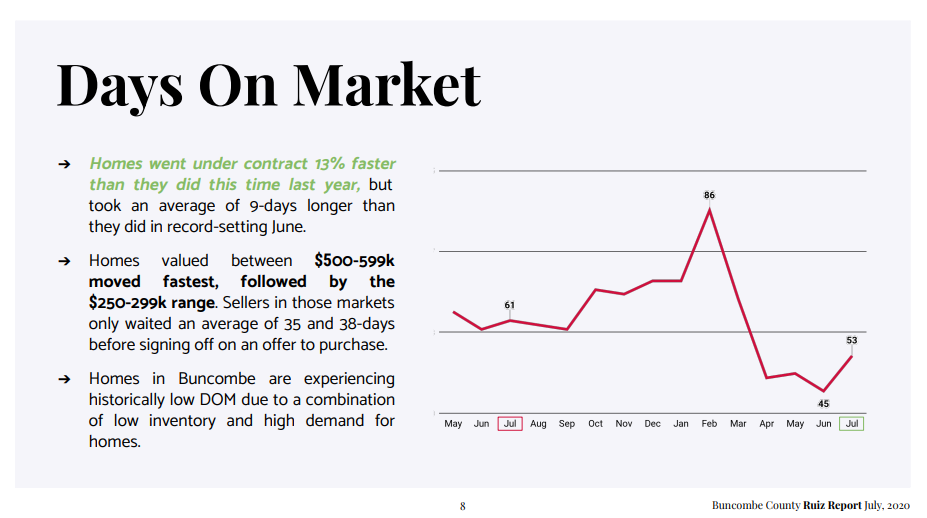 In addition to buyers and realtors moving quickly, the support industries follow suit. Examine the contract to close numbers. Once the home goes under contract, it's taking less time for home inspectors to do their jobs and mortgage lenders to settle on the deal. Although it's often difficult to book a home inspection, people are certainly working efficiently on this process. In the context of current events, this is incredible. 
Sometimes predictions don't come true. Look at median price data from Canopy MLS data. When coronavirus hit, we expected prices to be affected. But they weren't! Same with when Trump was elected and Obama's second term. In 2008, we DID have a recession due to banks mismanaging mortgages. That was a real event, and the rest were speculative based on other world events. Zac points out that, although the world's events affect real estate market data, it's not always as severe as we speculate.
Zac's Tips for Real Estate as an Investment 
Real estate is still a sound underlying investment, Zac says. Be realistic with what you're doing, and don't pay attention to the news. World events and politics are more separate from the real estate market than you'd think. However, it's also not a get-rich-quick investment. You may not see a big payoff for ten years. 

Look at what you can get for comparable use of funds plus the risk assessment. One of them is political risks. So flipping a home quickly may not always be the best investment and you may want to look at holding and renting instead.

It may be more satisfying to get paid more quickly, but the payoff in the long run can be less risky. Whatever you decide, make an informed decision. 
Zac doesn't want to tell you what to do. He wants you to analyze the data in a smart way and seek different and opposing opinions and advice. 
Market Data Overview
Ok, so it's a seller's market. But is it a good market? The answer is nuanced. It depends on you and your plans as an individual. What's your job and credit score? People are moving to the Asheville area on purpose for the quality of life, which will stay steady into the future.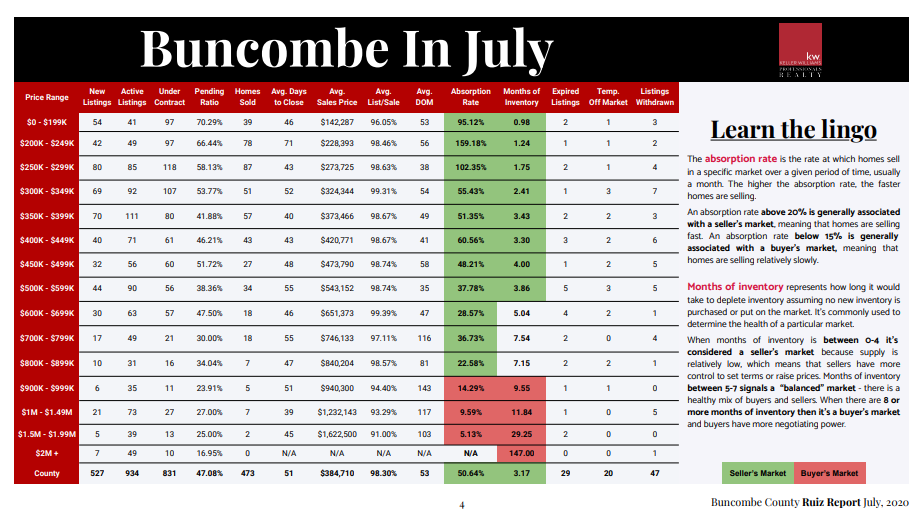 On buyer confidence: there are a large number of people who think the end is near, who believe in prepping for the end times. Those folks are looking for something to call their own. This emotionality spurs people to make purchases now. Emotions are affecting others with less extreme attitudes, too. 
Economic theory is based on the rational investor, but who is really rational? It's all about bringing balance to the market. If the market becomes less rapid in the future, that's good, and brings equilibrium. It would make it more accessible. So, although things are moving fast and going up, it wouldn't be a terrible change to move back down toward the middle. 
"Invest in what you know by analyzing the value and holding it for a long time." 
Zac advises that you don't try to speculate the timing of the market unless that's your expertise. Make those informed decisions in real estate.
Contact Zac via ruizreport.com for more on the real estate market and to share your views… Especially if you disagree!