What makes top agents shine in Asheville's real estate market? Some say hustle, others say it's talent. We spoke with Charles Boyett of Asheville Real Producers to find out his thoughts. The answer may seem simple, but gets to the heart of real estate. 
Asheville Real Producers is a publication that highlights the top 300 agents in the area, so Charles knows what he's talking about. A real estate pro, he "came home" to Asheville in November 2019. Although his family moved to Florida when he was 10 years old, Charles has always stayed connected and knew he'd return one day. 
Charles is a real estate pro, starting at the age of 18. Both of his parents worked in the industry and set an example with their success. He began in lending and mortgage finance, grew as a realtor with national brands, and got into coaching and leadership. Charles learned that the key was focusing on building meaningful relationships. After doing that, transactions will follow. 
A New Start
At one point in his career, Charles worked as a fitness trainer. The gym was closing, so he used his knowledge of contract law to negotiate the price down significantly. With that smart move, he owned an asset that could give people a place to improve themselves.  
Charles then discovered the Real Producers brand in Jacksonville, and got involved with it there. But when he started thinking about returning to Asheville, he looked into it further. He discovered that he could own his own franchise in Asheville, and started the process immediately. 
Like Charles, the platform focused on top agents building relationships in the real estate industry. He leveraged social media and began exploring the Asheville real estate scene, and published the first issue Asheville Real Producers magazine in April. A week after it came out, COVID-19 forced real estate offices to close. It was a simultaneous "sigh of relief and a gut punch" for Charles.
He didn't have a contingency plan. Charles took action and shifted focus from the print magazine to a digital platform and app. While he ships the print issue to the top 300 agents, it's also available digitally for all.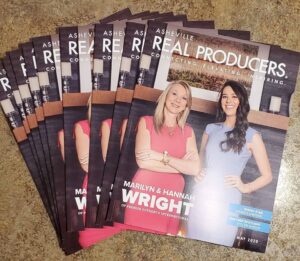 Asheville's Top Agents
Incredibly, the top 300 agents in Western North Carolina (6%) represent 70% of total volume. His ranking system focuses on production dollars, not number of units or other criteria. 
"Connecting, elevating, and inspiring." 
All the top agents here, Charles says, share his passion for relationship-building first and foremost. They also have great sales skills. Interpersonal, persuasion, and presentation skills combine for optimal results. They're hustling in this market, and need to have drive. That truly separates the good agents from the rest. 
Instead of taking on a huge quantity of meetings, focus on the quality of those meetings. Increase your closing ratio by considering how to reach those people you missed. Examine your skills to be more efficient and hone your craft. Add a personal touch like a handwritten note in the mail, which shows you truly value the relationship. 
Most of the top 300 agents in Asheville are not working solo — they have a team, usually one or two other people working for them. Charles hasn't seen a lot of 50/50 partnerships, which makes sense. Partnerships are hard! You have to have an almost perfect working relationship for that. If you're getting started as a new agent, do the research to find out where you fit in the industry. Part of a team? Flying solo? A large company, or boutique agency? Examine what the plan for growth is, if there are educational opportunities, and how much they cost. Find a place you can comfortably thrive with the tools you need (which may not be the tools you thought you needed!) 
The Asheville Real Estate Market
Despite the upheaval of 2020, Charles remains optimistic. The Asheville market is catching the benefit of other cities' downfall, since people are leaving less desirable places and buying homes here. 
The Asheville area is incredibly unique, he says, because the real estate market is not tied to the job market. Retirees, people bringing their jobs, and people figuring out where to work once they get here are moving in and buying homes quickly.  Attracted to the quality of life, new residents and buyers arrive every day.
Real Producers is just getting warmed up in Asheville. With events and special issues like the 40 Under 40 coming up this year, Charles looks forward to every new day.
Connect with Asheville Real Producers on Instagram and Facebook and see who top agents are in the Western North Carolina area, and how to get there yourself!