The impact mindset makes all the difference for Jeff Stewart at Keller Williams Professional Realty in Asheville, NC. By focusing on his impact on others and helping them thrive, he has built a successful career in real estate and management.
Originally from the area, Jeff knows Asheville well. He is currently managing four Keller Williams offices downtown and the KW Elite office in South Asheville. He works in a CEO-style role managing budgets, creating teams, and helping the right people develop their business. However, it took grit and hard work for him to get to this level.
The Journey to Leadership
Jeff was always entrepreneurial, starting businesses and making sales. But when an Asheville acquaintance encouraged him to get into real estate, something clicked inside. It was 2008 and the market was crashing. Jeff told his wife he was moving from Athens, Georgia back to Asheville to grow with the industry. His friend offered a couch to sleep on, and there Jeff stayed for two years while building his new career and gaining inertia. With additional help from friends and family, he knew he'd found the right fit. By being literally hungry, Jeff had no choice but to work hard to grow his business.
Soon, he hit a ceiling and was unsure how to get to the next level. He could see where he wanted to be but wasn't sure how to move up. Jeff fought adopting a corporate mentality, then realized those tools were effective. Why not be savvy, leverage those methods and apply them to his business? He realized his resistance was based on fear. It wasn't a compromise of values, he just had to let go of misconceptions.
He began building a team, finding agents and bringing them on board. When hiring, he is slow to hire and quick to fire. He makes sure their core values align with his, and the employee has a similar impact mindset. This is the type of team member that pushes you to expand. You need their drive and ideas on your side, so you can have a mutually motivational relationship.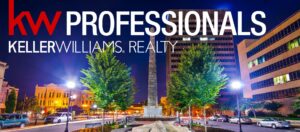 Jeff is energized by a team, and refuses to let the team down. They've taken a risk, and he will not let them fail. His journey from sleeping on a couch to leading a large team was incredibly humbling. That feeling of all growing together and making an impact is infectious.
Developing an Impact Mindset
Jeff helps his agents work with an impact mindset, always thinking of their affect on others. They understand how to create value in relationships. In order to effectively network and leverage their sphere, it's important to shift the mindset. Ask yourself, "how can I bring value?" when reaching out for help. Know what you contribute to the relationship and have confidence in that contribution. It takes grit and/or skills to value your impact. Keep asking questions, don't just talk. At the end of the day, Jeff wants to help agents focus on finding solutions for people.
The ideal Keller Williams agent is entrepreneurial. They want to change their life and those around them. They possess the ability to deliver value to others. Anyone can learn this approach – it's a shift from a transactional to a transformational focus.
Innate talent, Jeff says, is a curse in business. It brings complacency. He helps his agents identify where their hunger and drive comes from. It may be building wealth, it may be giving back to the community and the world. By focusing on their true mission, his agents stay successful and motivated to continue providing impeccable customer service.
The Future is Here
Technology is making a big difference in how people are buying homes. iBuyers, real estate investors using technology like automated valuation models (AVMs) to make cash offers on homes, have already begun to shift the landscape. Jeff believes tech and AI will replace 20% of the workplace, and commissions will go down.
In the next 12-16 months, Jeff predicts significant change from pipeline to platform sales, with technology changing how real estate is done. The partnership between who we are as people and tech and artificial intelligence (AI) will grow.
In Jeff's perspective, Zillow and tools like it are disruptors. The job of the disruptor is to get market share faster than the incumbent can adopt new technology. So people that know their value proposition and can create competitive advantage will flourish and use tech as a tool. Lazy agents will lose their jobs.
The human perspective and customer experience remains vital, even with advanced tools. To stay relevant and successful, agents must be continually learning and changing, thus creating new solutions. Jeff and his team will maintain the impact mindset and continue to thrive in a changing market.
Email Jeff at [email protected]