Richard Coyne of Park Capital Partners wants to enjoy his life and support his family. Don't we all? Support the family as it grows, send the kids to good schools, and eventually retire comfortably enough to pursue our hobbies. He figured out how to build wealth in a way that works for him – multi-family investment properties.
Richard has a "day job" running a software consulting company. But three years ago he decided to branch out into the real estate field. He looked at many ways to build wealth and even started another project but that was too undefined. He wanted a really good side hustle with solid money. The stock market can be risky, and things change every second. It takes a lot of attention to succeed there. Richard said he can control real estate investments in a way he wouldn't be able to with stocks. It's something interesting he can do well at.
Starting From Zero
What were Richard's first steps? Learning. Research. He looked at different aspects of the business, the reality of flipping beyond 30-minute "reality" shows, and took a course with an included mastermind group. The group turned out to be the valuable part, as he could look at the others and see what they were up to. By following this lead, he joined the local real estate investor association in Western North Carolina and began to make connections. One of the people he met was Bill Zahller, his future business partner.
While learning about real estate, Richard was looking at property listings for the right first investment. One popped up in Haywood County, and the very low price appealed to him. It was in foreclosure. He contacted an agent friend and visited the property, then made an offer. It was a short sale situation and he closed in three months despite a small bidding war. But after having the property under contract, he examined cash flow. It would take a lot more single-family investments to get the profit he wanted.
Due to the limiting factor of having the money to buy vs cash flow, Richard needed a new approach. How could he jump to owning hundreds of houses without the slow, costly method of buying one at a time?
Exponential Growth
A lightbulb appeared above his head – well, maybe not, but he had a thought- maybe he would buy a multi-family investment property or apartments!
Richard found a relevant course to take on his new investment plan. That course outlined how to create a credibility book, where he would take a sample deal and model it out. That covered the data analysis and modeling. He met with someone in the industry already, and they said the projection looked good but the property was too small for them.
Another lightbulb: go bigger!
His next potential property was an 100-unit property in Greensboro. Richard presented himself as an expert, knowledgeable and well-dressed, so there was no question to his credibility. Though still a beginner, Richard had the business sense to look the part. Once he investigated the property, he realized he needed a partner.
Richard remembered meeting Bill at the association meeting and chatting about multi-family investment properties. They connected again and realized they were on the same path for the same reasons. Working as a team, they chased the property and ended up putting in and then pulling an offer.
Through lengthy analysis, The duo saw the flaws in their model. The demographics didn't work once they looked at median incomes around the property location and considered what they would receive in rent. Could these tenants afford to pay higher rents? Their projections weren't realistic for that area. More than just rent projections, the median income can also indicate whether people have disposable income and are higher-quality tenants who will stay longer and be more reliable. Area house values help show the same thing, but since renting is becoming more prevalent, income becomes a more important data point.
Working as a Team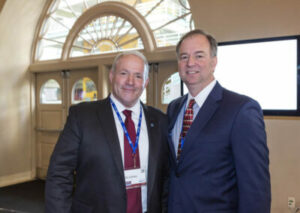 When it comes to finding the right business partner, Richard recommends what he did with Bill – get to know the person well. Take your time. Find out about their objectives, attitude, family, goals, approach and even their sense of humor. Do those align with yours? People can be deceptive, but if you watch for signs and ask around about them, you can spot a dud. Remember that "if somebody shows you who they are, believe them."
Richard and Bill have developed a successful system in the past 2.5 years. Park Capital Partners is a real estate syndicator – they find a deal, run the numbers, and make offers. Once the offer is accepted, they find investors. With a prepared investment summary for the investors, everything is clearly laid out. They work with a dedicated underwriter with deep market understanding and his own underwriting program. He knows how to structure deals and how to adjust the model to ensure realistic and properly projected returns. The Park Capital team now have three properties with 466 total units, and are looking all over the southeast for the best properties.
You can learn more about Richard Coyne, Park Capital Partners LLC, and multi-family investment though his website or via email.