You're prepping dinner, the cutting board set up on white marble countertops. Sunlight, dappled by oak leaves, dances across the surfaces. You look out the large window above the sink to check on the kids playing on the swingset in the large, sloping yard. There are already some delicious smells wafting from the wall-mounted professional oven, and your spouse should be finishing up work in the adjacent home office soon.

Sound good? Instead of just listing the features, imagine this property description for your next potential sale. It could really help you attract the right buyer!
When you're building your real estate business, it can be hard to pin down what's important. Marketing and lead generation are key. Quality copywriting and content creation are vital to converting website visitors to clients.
Meet Chelsea!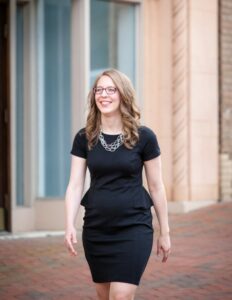 Chelsea Baldwin is an expert at just this. The owner of two companies, Copy Power and Business Bitch, she has been helping small businesses with copy – and building their confidence. After freelancing and working in India as a CMO (chief marketing officer) for a large international company, Chelsea began her business in 2014. Why did she leave the CMO position? Perhaps you can understand, if you've left a more traditional workplace for the real estate industry. It was a high-pressure position that was draining her emotionally and physically. Although the work was satisfying and the results were good, she had to find a more sustainable career. She took that experience, combined it with freelance skills, and created Copy Power.
Her passion for business is evident. To Chelsea, words make the impact and build better leads for her clients. She is fascinated with the results and seeing what resonates. Via Copy Power, Chelsea helps create emotionally-driven static content for companies doing most of their business online. This can range from a website landing page to a set of emails that are sent when a client signs up for a service and beyond.
One of her early clients created an online course, and Chelsea developed pre-launch email sequences. On launch day, 12,000 people signed up for the course. This was electrifying, and Chelsea knew her work and methods were making a measurable impact.
While helping businesses with copy and content, Chelsea received countless questions about strategy, technique and outreach. She then launched the Business Bitch company to separate her trainings and workshops from her copywriting. At Business Bitch, Chelsea gives you the tools to build a business without mindless grinding or wasting money.
Copywriting for Real Estate
Instead of starting with a sales pitch, Chelsea sees great copy as a value exchange. Share your knowledge and expertise through blog posts and static content to show your clients that you're reliable and a great resource. Then, when you have a product for them, they're more likely to respond to your pitch. If you aren't confident as a writer, Chelsea has tips and resources for you. Check out her video on copywriting for real estate or her free online copy course!
Two copywriting tips she shared on our podcast:
Static/evergreen content – create content and information people are already searching for. Visit answerthepublic.com to discover your topics and keywords. This content should be easy to produce since you're the pro in your industry! Try speaking into a voice recorder if typing it out cold is challenging you. Informative content really helps with ranking in the search engines.
Sell more with copy – When writing the actual property or product descriptions, people usually just add the specs as a list. Create an emotional connection to the property. Describe what it's like to be in that house. Include funky or odd features you may not find appealing or are dated. Draw out an attachment, with details of the moments people would experience in the space.
If you'd rather outsource a copywriter, do it right. When hiring, Chelsea recommends you try to find someone who talks about emotions and connection with the audience. Ask to see what kind of copy they've written before and compare to other work in the same niche. Is theirs better? You may also want to find someone who, like Chelsea, knows how to look at data and has done testing with what people respond to most.
Copywriting for real estate might become your new favorite part of the job. Just appeal to the senses and emotions, and if you get stuck, ask Chelsea for help!