Is Keller Williams making a shift from real estate to technology? It's a revolutionary approach for them to focus on building a unique platform for their agents, rather than relying on the tech tools they can't control. 
Bret Frk, a buyers agent on the Broker Asheville team, attended the Keller Williams family reunion in February and has the inside scoop on what's new with the company and the market. He also has some great insight into becoming a broker and buying in Asheville. 
Bret has been in Asheville for 20 years and has a land planning and urban design background. Years ago, he took a sabbatical to Patagonia on a wilderness trip, and during that time he decided to focus on conservation development. He then moved to Asheville and met and connected with Jeff Stewart. Since he liked the acquisition part of making land deals, Bret got his brokerage license and joined Keller Williams. He's been with Keller Williams for about five years. He loves the company because the culture is so strong. It's so much more than just real estate brokerage.
Keller Williams' New Real Estate Tech
Bret attended the Keller Williams family reunion, which was his fourth time attending. He was there with 18,000 people from all over the world sharing energy and passion for the real estate industry. As well as an educational opportunity, it was a great way to network with other market leaders, people with great energy and ideas. Two main themes of the conference were mindset and technology.
Keller Williams is re-framing itself as a tech company that does real estate, not the other way around. They are creating their own platforms for agents, and have been working on all the different parts for years. 
Last year, KW launched KW Command, replacing other real estate tech for brokers with a one-stop shop that works with AI. They rolled it out slowly, making huge improvements and bug fixes as their brokers provided feedback. 
Keller Williams' system has an integrated CRM, sales pipeline tool, income tracking, and automated checklists. It's also integrated with Facebook and Instagram ads and marketing, connecting its graphic design tool with their targeted ad planner. You can even design custom mailers to send clients.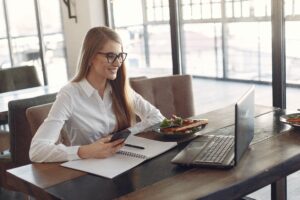 In addition, Keller Williams has created an app connected to this, personalized to the agent. This helps the agents communicate with buyers and sellers faster, eliminating "real estate friction," or unknowns and extra steps. 
Bret's favorite feature? The neighborhood statistics and neighbor profiles, customized to the area. This has a personal touch and a local feel that Zillow can't compare to. He can ask the app questions like, "How is Oakley different from Haw Creek?" and receive detailed information instantly.
Tech is great at automating life, but we do lose the personal connection, which is key to staying close to clients. At Keller Williams, Bret says business is more than selling a house. It's improving the lives of residents with resources and ongoing support. Even though tech is growing, the leaders at Keller Williams urge agents not to rely on it and to connect directly with people. 
Becoming A Broker?
If you're considering becoming a real estate broker, Bret says that having the mindset for growth is key. You need to look at brokerage as starting your own business. This includes building a brand and generating leads. It's definitely key to making and leveraging personal connections and reaching out to your sphere of people. It's also not a quick process – be prepared for 3-6 months without a paycheck! 
If you are an agent or just starting out, talk to the people at KW. Their app and platforms are free and incredibly useful, especially since they provide one-on-one focused concierge-level quality service.
Buying A Home in Asheville? 
Bret has a positive outlook for the Asheville and Western North Carolina area compared to the rest of the country. He estimates that 75% of his buyers are from out of town, visiting to scout the area and then coming back to buy. Many are from Florida, California, the Northeast, and Ohio. 
Recommendations for buyers new to the Asheville market: 
Connect with an agent before you visit.

Know what your dreams are and be open to share that with your agent. What do you want for your new life here? We can provide anything from a great urban lifestyle to completely remote. If your agent isn't asking those questions, that's a red flag. 

Connect with a great lender and get pre-qualified. You may need to move fast once you find the right property. 

If you're looking at doing short-term rentals, do your research well beforehand. You're getting into the hospitality business, so know what makes that successful here. Location, something unique, service… there is a lot of competition here. 
Connect with Bret via email or via call or text at 828-335-3499. No question is off-limits – he's here to help you live your best life.